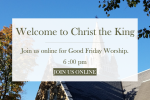 Good Friday Worship: Zoom Information
In preparation for our Good Friday Worship service, please follow these instructions to enter the webinar.
As a quick reminder, our service will be a half an hour Zoom webinar. The service begins at 6:00 PM but feel free to join early at 5:45 PM. Please remember to print out the bulletin in advance.
Joining the Worship Service Information
When you are ready to join, please

click here

to open up the Zoom conferencing platform.
If you would prefer to simply call into the Webinar, please call US: +1 929 205 6099.
If you call in, you will need to input the Webinar ID which is: 758 944 867.
You can also join by the Zoom App. If you download the Zoom App on your phone, your can select Join a Meeting and then input the Webinar ID above. This will join you to the worship service.
Downloading / Joining Zoom Information
If you do not have Zoom already installed on your computer, the link above will automatically prompt installation. Follow the prompts and the installation process should take no more than two minutes.
If you are looking to join on your phone or tablet, please download the Zoom App from the App Store or Google Play.
In order to join the meeting, you will be prompted to put in your name and email address. This is for Zoom registration purposes only (we are not collecting your information).
After you input your email and name, you will be asked whether you want to join using computer or phone audio and video.
Once you select computer or phone audio and video, you will join the worship service.
Below are a few notes that may be helpful for you to keep in mind for Friday evening.
Important Notes
We will be using Zoom Webinar for the worship service - while this means that we will not be able to see everyone's faces, it will give us, as a church, security and oversight during the service.
When joining the Webinar, you will be automatically muted and your camera and chat features will be disabled.
If you have any questions once you join, you can ask me in the Q&A feature. This will send questions directly to me and I will be able to help you individually. This can be accessed by clicking Q&A located in the black bar at the bottom of the screen.
For those of you who would also like to avoid crowding around your laptop, you may want to plug your computer into your TV using an HDMI cord or by mirroring it to your TV (mirroring is typically used to project your phone to your TV wirelessly). This may be nice during the morning worship service, but please remember that the evening time is a regular Zoom meeting with cameras and voice enabled.
If you have questions prior to joining the meeting, please feel free to email .
Finally, as a reminder, if you need it, the webinar id is: 758 944 867.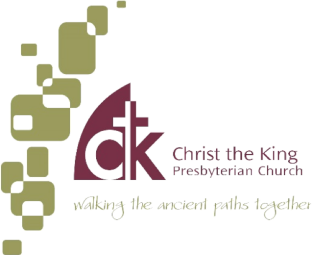 Good Friday Worship April 10, 2020
Greetings
Call to Worship: Philippians 2:6-8
Leader: Blessed be the name of the Lord our God,
People: who redeems us from sin and death, through Christ Jesus Our Lord,
Leader: who, though he was in the form of God, did not count equality with God a thing to be grasped, but emptied himself, by taking the form of a servant, being born in the likeness of men. And
being found in human form, he humbled himself by becoming obedient to the point of death, even death on a cross.
People: Blessed be the name of the Lord
*Invocation
First Word: Luke 23:26-34
And as they led him away, they seized one Simon of Cyrene, who was coming in from the country, and laid on him the cross, to carry it behind Jesus. 27 And there followed him a great multitude of the people and of women who were mourning and lamenting for him. 28 But turning to them Jesus said, "Daughters of Jerusalem, do not weep for me, but weep for yourselves and for your children. 29 For behold, the days are coming when they will say, 'Blessed are the barren and the wombs that never bore and the breasts that never nursed!' 30 Then they will begin to say to the mountains, 'Fall on us,' and to the hills, 'Cover us.' 31 For if they do these things when the wood is green, what will happen when it is dry?"
32 Two others, who were criminals, were led away to be put to death with him. 33 And when they came to the place that is called The Skull, there they crucified him, and the criminals, one on his right and one on his left. 34 And Jesus said, "Father, forgive them, for they know not what they do."
Second Word: Luke 23:39-43
One of the criminals who were hanged railed at him saying, "Are you not the Christ? Save yourself and us!" 40 But the other rebuked him, saying, "Do you not fear God, since you are under the same sentence of condemnation? 41 And we indeed justly, for we are receiving the due reward of our deeds; but this man has done nothing wrong." 42 And he said, "Jesus, remember me when you come into your kingdom." 43 And he said to him, "Truly, I say to you, today you will be with me in Paradise."
Pastoral Prayer of Confession
Third Word: John 19:23-27
When the soldiers had crucified Jesus, they took his garments and divided them into four parts, one part for each soldier; also his tunic. But the tunic was seamless, woven in one piece from top to bottom, 24 so they said to one another, "Let us not tear it, but cast lots for it to see whose it shall be." This was to fulfill the Scripture which says,
"They divided my garments among them,
and for my clothing they cast lots."
So the soldiers did these things, 25 but standing by the cross of Jesus were his mother and his mother's sister, Mary the wife of Clopas, and Mary Magdalene. 26 When Jesus saw his mother and the disciple whom he loved standing nearby, he said to his mother, "Woman, behold, your son!" 27 Then he said to the disciple, "Behold, your mother!" And from that hour the disciple took her to his own home.
He Cares
Fourth Word: Mark 15:33-34
And when the sixth hour had come, there was darkness over the whole land until the ninth hour. 34 And at the ninth hour Jesus cried with a loud voice, "Eloi, Eloi, lema sabachthani?" which means, "My God, my God, why have you forsaken me?"
Fifth Word: John 19:28-29
After this, Jesus, knowing that all was now finished, said (to fulfill the Scripture), "I thirst." 29 A jar full of sour wine stood there, so they put a sponge full of the sour wine on a hyssop branch and held it to his mouth.
When Jesus had received the sour wine, he said, "It is finished," and he bowed his head and gave up his spirit.
Musical Offering
Seventh Word: Luke 23:46
Then Jesus, calling out with a loud voice, said, "Father, into your hands I commit my spirit!" And having said this he breathed his last.
May the Lamb of God have mercy upon you all. Amen.
Hymn Recordings
You can listen to the hymn recordings by clicking on the hymn titles below.
Announcements
Welcome: Thank you for joining with us today for morning worship. Please feel free to gather with us again on Sunday, April 12th at 10am. See our website for additional details.
Congregational Meeting: Please join us on Thursday, April 16th at 7:30 pm for a Congregational Meeting. More details to follow via email.
Home Fellowship Groups: These groups will continue to meet utilizing online platforms. For more information on the various group, please see the Church Life - Home Fellowship Group section of the website.
PCA 30 Days of Prayer Guide: https://byfaithonline.com/pca-invites-members-to-join-30-days-of-prayer/
Deacons: The deacons want to assure you that we are available to help with the ongoing physical needs of the congregation. These are days of deep concern for all of us especially with so much uncertainty surrounding issues of health and finances. Please feel free to call or email one of the deacons with any of your concerns. Grace and Peace, Dave Hudson, Nick Kirkland, Jay Signorino, Peter Stahl, Joshua Tyson.
Women's Saturday Study: This study is cancelled until further notice.
Financial Update: Please remember that some people within our congregation and community have been seriously impacted financially from COVID-19. The deacons are reaching out to see how they can help. The deacons fund is used specifically for these needs.
We are all eager to meet together for worship but do not know when we will be able to do so. Please continue to support the financial needs of our church. You can do so by:
Mailing checks to Christ the King Presbyterian Church 325 Fayette St. Conshohocken, PA 19428. Gifts for the deacons fund or building fund should be noted in them memo line.
Give on line through the church's web site: http://christthekingpca.org/resources/give-online/
Note that the online portal allows for a credit card or bank draft. The church incurs lower fees with the bank drafts. Gifts can be made to the general fund, deacons fund or building fund.
Donate securities through the church's brokerage account (contact church treasurer Dave Hudson if you need information on this process). As always, thank you for your generosity and faithfulness to Christ the King.