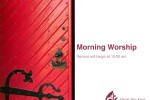 In preparation for our Morning Worship Service, please click the button below to enter the webinar.
As a quick reminder, our service will be a half an hour Zoom webinar. The service begins at 10:00 AM but feel free to join early at 9:45 AM. The bulletin can be viewed below or printed by opening up the attached PDF.
Click here to print the bulletin
Additionally, at 9:57, we will play a recording of Come, Thou Almighty King. Please feel free to sign in a few minutes early to listen or sing along with the recording. In your hymnals this is Hymn #101 and the words will also be printed in the bulletin and available below.
If you need additional information about how to join the Zoom Webinar, please scroll to the bottom of this page where we have highlighted the webinar information as well as additional joining instructions.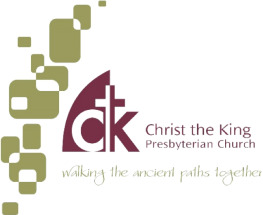 Morning Worship: April 26, 2020
Greetings
*Call to Worship: Psalm 25:1-5
To you, O Lord, I lift up my soul.
2 O my God, in you I trust;
let me not be put to shame;
let not my enemies exult over me.
3 Indeed, none who wait for you shall be put to shame;
they shall be ashamed who are wantonly treacherous.
4 Make me to know your ways, O Lord;
teach me your paths.
5 Lead me in your truth and teach me,
for you are the God of my salvation;
for you I wait all the day long.
*Invocation
The Ten Commandments: Exodus 20:1-17
And God spoke all these words, saying,
2 "I am the Lord your God, who brought you out of the land of Egypt, out of the house of slavery.
3 "You shall have no other gods before me.
4 "You shall not make for yourself a carved image, or any likeness of anything that is in heaven above, or that is in the earth beneath, or that is in the water under the earth. 5 You shall not bow down to them or serve them, for I the Lord your God am a jealous God, visiting the iniquity of the fathers on the children to the third and the fourth generation of those who hate me, 6 but showing steadfast love to thousands of those who love me and keep my commandments.
7 "You shall not take the name of the Lord your God in vain, for the Lord will not hold him guiltless who takes his name in vain.
8 "Remember the Sabbath day, to keep it holy. 9 Six days you shall labor, and do all your work, 10 but the seventh day is a Sabbath to the Lord your God. On it you shall not do any work, you, or your son, or your daughter, your male servant, or your female servant, or your livestock, or the sojourner who is within your gates. 11 For in six days the Lord made heaven and earth, the sea, and all that is in them, and rested on the seventh day. Therefore the Lord blessed the Sabbath day and made it holy.
12 "Honor your father and your mother, that your days may be long in the land that the Lord your God is giving you.
13 "You shall not murder.
14 "You shall not commit adultery.
15 "You shall not steal.
16 "You shall not bear false witness against your neighbor.
17 "You shall not covet your neighbor's house; you shall not covet your neighbor's wife, or his male servant, or his female servant, or his ox, or his donkey, or anything that is your neighbor's."
Our Father in heaven, we confess that we have sinned in many ways against you and your commandments. We have put our trust more in men than in you, our God and Creator. We have made idols in our hearts, and bowed down to serve them. We have neglected your worship on the Lord's Day, and we have complained about the work that you have given us for the other six days. We have been angry with our neighbors whom we are to love. Our thoughts and words are often impure. We are self-indulgent rather than self-disciplined. We have distorted and denied the truth. We have coveted the good gifts you have given to others. O Lord God, have mercy on us! Forgive our inclination toward evil, and all our sins, through Jesus Christ, your dear Son. Keep us in your ways by the power of your Holy Spirit, and help us to live according to your will. Amen.
Promise of Forgiveness: Micah 7:18-19
Who is a God like you, pardoning iniquity and passing over transgression for the remnant of his inheritance? He does not retain his anger forever, because he delights in steadfast love. He will again have compassion on us; he will tread our iniquities under foot. You will cast all our sins into the depths of the sea.
Affirmation of Faith: Apostles' Creed
I believe in God the Father Almighty, Maker of heaven and earth.
I believe in Jesus Christ, his only Son, our Lord, who was conceived by the Holy Spirit, and born of the virgin Mary. He suffered under Pontius Pilate, was crucified, died, and was buried; he descended into hell. The third day he rose again from the dead. He ascended into heaven and is seated at the right hand of God the Father Almighty. From there he shall come to judge the living and the dead.
I believe in the Holy Spirit, the holy universal church, the communion of saints, the forgiveness of sins, the resurrection of the body, and the life everlasting. Amen.
Prayers for the Church and the World and the Lord's Prayer
Our Father, who art in heaven, hallowed be Thy name.
Thy kingdom come, Thy will be done, on earth as it is in heaven.
Give us this day our daily bread.
And forgive us our debts, as we forgive our debtors.
And lead us not into temptation, but deliver us from evil.
For Thine is the kingdom, and the power, and the glory, forever. Amen.
Sermon Text: John 14:25-27; 15:26; 16:12-15
25 "These things I have spoken to you while I am still with you. 26 But the Helper, the Holy Spirit, whom the Father will send in my name, he will teach you all things and bring to your remembrance all that I have said to you. 27 Peace I leave with you; my peace I give to you. Not as the world gives do I give to you. Let not your hearts be troubled, neither let them be afraid.
26 "But when the Helper comes, whom I will send to you from the Father, the Spirit of truth, who proceeds from the Father, he will bear witness about me.
12 "I still have many things to say to you, but you cannot bear them now. 13 When the Spirit of truth comes, he will guide you into all the truth, for he will not speak on his own authority, but whatever he hears he will speak, and he will declare to you the things that are to come. 14 He will glorify me, for he will take what is mine and declare it to you. 15 All that the Father has is mine; therefore I said that he will take what is mine and declare it to you.
Preaching of the Word: Eric Huber
Spirit of Truth
*Hymn of Response # 335: Gracious Spirit, Dwell with Me
*Benediction: 2 Corinthians 13:14
The grace of the Lord Jesus Christ and the love of God and the fellowship of the Holy Spirit be with you all.
Announcements
Welcome: Thank you for joining with us today for morning worship. Please feel free to gather with us again this evening at 6pm for a time of congregational prayer. See our website for additional details.
PCA 30 Days of Prayer Guide: https://byfaithonline.com/pca-invites-members-to-join-30-days-of-prayer/
Home Fellowship Groups: These groups will continue to meet utilizing online platforms. For more information on the various group, please see the Church Life - Home Fellowship Group section of the website.
Deacons: The deacons want to assure you that we are available to help with the ongoing physical needs of the congregation. These are days of deep concern for all of us especially with so much uncertainty surrounding issues of health and finances. Please feel free to call or email one of the deacons with any of your concerns. Grace and Peace, Dave Hudson, Nick Kirkland, Jay Signorino, Peter Stahl, Joshua Tyson
Financial Update: We are all eager to meet together for worship but do not know when we will be able to do so. Please continue to support the financial needs of our church. You can do so by:
Mailing checks to Christ the King Presbyterian Church 325 Fayette St. Conshohocken, PA 19428. Gifts for the deacons fund or building fund should be noted in them memo line.
Give on line through the church's web site: http://christthekingpca.org/resources/give-online/
Note that the online portal allows for a credit card or bank draft. The church incurs lower fees with the bank drafts. Gifts can be made to the general fund, deacons fund or building fund.
Donate securities through the church's brokerage account (contact church treasurer Dave Hudson if you need information on this process). As always, thank you for your generosity and faithfulness to Christ the King.
PCRT 2020: We are excited to offer PCRT Live! April 24-30, 2020
Please join us for the livestream of the Philadelphia Conference on Reformed Theology, Revelation: The Sovereign Reign of the Exalted Christ! This special online event will kick off this Friday, April 24th at 7:00 PM and continue through April 30th with teaching from Joel Beeke, Richard Phillips, Philip Ryken, Derek Thomas and Cornelis Venema. It is our prayer that this online conference will reach thousands of viewers, so please invite your friends to tune in!
More information can be found at ReformedEvents.org
101 Come, Thou Almighty King
Come, Thou Almighty King,
help us Thy name to sing,
help us to praise.
Father, all-glorious, o'er all victorious,
come and reign over us, Ancient of Days.
Come, thou Incarnate Word,
gird on Thy mighty sword,
our prayer attend.
Come, and Thy people bless, and give Thy Word success;
Spirit of holiness, on us descend.
Come, Holy Comforter,
thy sacred witness bear
in this glad hour.
Thou who almighty art, now rule in every heart,
and ne'er from us depart, Spirit of pow'r.
To the great One in Three
eternal praises be,
hence evermore.
His sovereign majesty may we in glory see,
and to eternity love and adore.
335 Gracious Spirit, Dwell with Me
Gracious Spirit, dwell with me:
I myself would gracious be;
and with words that help and heal
would thy life in mine reveal;
and with actions bold and meek
would for Christ my Savior speak.
Truthful Spirit, dwell with me:
I myself would truthful be;
and with wisdom kind and clear
let thy life in mine appear;
and with actions brotherly
speak my Lord's sincerity.
Mighty Spirit, dwell with me:
I myself would mighty be;
mighty so as to prevail
where unaided man must fail;
ever by a mighty hope
pressing on and bearing up.
Holy Spirit, dwell with me;
I myself would holy be;
separate from sin, I would
choose and cherish all things good,
and whatever I can be,
give to him who gave me thee!
Zoom Webinar Information
Joining the Worship Service Information
If you would prefer to simply call into the Webinar, please call US: +1 929 205 6099.
If you call in, you will need to input the Webinar ID which is:

974-6646-3573

.
Downloading / Joining Zoom Information
If you do not have Zoom already installed on your computer, the link above will automatically prompt installation. Follow the prompts and the installation process should take no more than two minutes.
If you are looking to join on your phone or tablet, please download the Zoom App from the App Store or Google Play.
In order to join the meeting, you will be prompted to put in your name and email address. This is for Zoom registration purposes only (we are not collecting your information).
After you input your email and name, you will be asked whether you want to join using computer or phone audio and video.
Once you select computer or phone audio and video, you will join the worship service.
Below are a few notes that may be helpful for you to keep in mind for Sunday morning.
Important Notes
We will be using Zoom Webinar for the worship service - while this means that we will not be able to see everyone's faces, it will give us, as a church, security and oversight during the service.
When joining the Webinar, you will be automatically muted and your camera and chat features will be disabled.
If you have any questions once you join, you can ask me in the Q&A feature. This will send questions directly to me and I will be able to help you individually. This can be accessed by clicking Q&A located in the black bar at the bottom of the screen.
For those of you who would also like to avoid crowding around your laptop, you may want to plug your computer into your TV using an HDMI cord or by mirroring it to your TV (mirroring is typically used to project your phone to your TV wirelessly). This may be nice during the morning worship service.
Finally, as a reminder, if you need it, the webinar id is: 974-6646-3573.