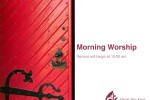 In preparation for our Morning Worship Service, please click the button below to enter the webinar.
As a quick reminder, our service will be a half an hour Zoom webinar. The service begins at 10:00 AM but feel free to join early at 9:45 AM. The bulletin can be viewed below or printed by opening up the attached PDF.
Click here to print the bulletin
Additionally, at 9:57, we will play a recording of All Creatures of Our God and King. Please feel free to sign in a few minutes early to listen or sing along with the recording. In your hymnals this is Hymn #115 and the words will also be printed in the bulletin and available below.
If you need additional information about how to join the Zoom Webinar, please scroll to the bottom of this page where we have highlighted the webinar information as well as additional joining instructions.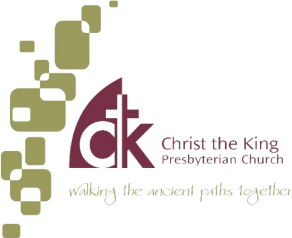 Morning Worship May 10, 2020
Greetings
*Call to Worship: Lamentations 3:21-26
This I call to mind,
and therefore I have hope:
22 The steadfast love of the Lord never ceases;
his mercies never come to an end;
23 they are new every morning;
great is your faithfulness.
24 "The Lord is my portion," says my soul,
"therefore I will hope in him."
25 The Lord is good to those who wait for him,
to the soul who seeks him.
26 It is good that one should wait quietly
for the salvation of the Lord.
*Invocation
Confession of Sin
Lord Jesus, forgive us our sins. Forgive the sins that we remember, and those we have committed unknowingly. Forgive our many failures in the face of temptation, and the times when we have ignored correction. Forgive the times we have been proud of our own achievements and failed to boast in your works. Forgive the harsh judgments we have made of one another, and way we have excused ourselves. Forgive our dishonesty toward others, and the truths we have refused to hear. Forgive us the hurt we have caused others, and the indulgence we have shown ourselves. Jesus, have mercy on us. Amen.
Promise of Forgiveness: Psalm 32:5
I acknowledged my sin to you, and I did not cover my iniquity; I said, "I will confess my transgressions to the Lord," and you forgave the iniquity of my sin.
Old Testament Reading: Exodus 34:1-9
The Lord said to Moses, "Cut for yourself two tablets of stone like the first, and I will write on the tablets the words that were on the first tablets, which you broke. 2 Be ready by the morning, and come up in the morning to Mount Sinai, and present yourself there to me on the top of the mountain. 3 No one shall come up with you, and let no one be seen throughout all the mountain. Let no flocks or herds graze opposite that mountain." 4 So Moses cut two tablets of stone like the first. And he rose early in the morning and went up on Mount Sinai, as the Lord had commanded him, and took in his hand two tablets of stone. 5 The Lord descended in the cloud and stood with him there, and proclaimed the name of the Lord. 6 The Lord passed before him and proclaimed, "The Lord, the Lord, a God merciful and gracious, slow to anger, and abounding in steadfast love and faithfulness, 7 keeping steadfast love for thousands, forgiving iniquity and transgression and sin, but who will by no means clear the guilty, visiting the iniquity of the fathers on the children and the children's children, to the third and the fourth generation." 8 And Moses quickly bowed his head toward the earth and worshiped. 9 And he said, "If now I have found favor in your sight, O Lord, please let the Lord go in the midst of us, for it is a stiff-necked people, and pardon our iniquity and our sin, and take us for your inheritance."
Affirmation of Faith: Heidelberg Catechism Questions 26 & 28
Q: What do you believe when you say, "I believe in God, the Father almighty, creator of heaven and earth"?
A: That the eternal Father of our Lord Jesus Christ, who out of nothing created heaven and earth and everything in them, who still upholds and rules them by his eternal counsel and providence, is my God and Father because of Christ the Son. I trust God so much that I do not doubt the will provide whatever I need for body and soul, and will turn to my good whatever adversity he sends upon me in this sad world. God is able to do this because he is almighty God and desires to do this because he is a faithful Father.
Q: How does the knowledge of God's creation and providence help us?
A: We can be patient when things go against us, thankful when things go well, and for the future we can have good confidence in our faithful God and Father that nothing in creation will separate us from his love. For all creatures are so completely in God's hand that without his will they can neither move nor be moved.
Prayers for the Church and the World and the Lord's Prayer
Our Father, who art in heaven, hallowed be Thy name.
Thy kingdom come, Thy will be done, on earth as it is in heaven.
Give us this day our daily bread.
And forgive us our debts, as we forgive our debtors.
And lead us not into temptation, but deliver us from evil.
For Thine is the kingdom, and the power, and the glory, forever. Amen.
Sermon Texts:
Galatians 5:22-23
But the fruit of the Spirit is love, joy, peace, patience, kindness, goodness, faithfulness, 23 gentleness, self-control; against such things there is no law.
Be patient, therefore, brothers, until the coming of the Lord. See how the farmer waits for the precious fruit of the earth, being patient about it, until it receives the early and the late rains. 8 You also, be patient. Establish your hearts, for the coming of the Lord is at hand. 9 Do not grumble against one another, brothers, so that you may not be judged; behold, the Judge is standing at the door. 10 As an example of suffering and patience, brothers, take the prophets who spoke in the name of the Lord. 11 Behold, we consider those blessed who remained steadfast. You have heard of the steadfastness of Job, and you have seen the purpose of the Lord, how the Lord is compassionate and merciful.
Preaching of the Word: Eric Huber
Love is Patient
*Hymn of Response # 108: Whate'er My God Ordains Is Right
*Benediction: 1 Thessalonians 5:23-24
Now may the God of peace himself sanctify you completely, and may your whole spirit and soul and body be kept blameless at the coming of our Lord Jesus Christ. 24 He who calls you is faithful; he will surely do it.
Announcements
Welcome: Thank you for joining with us today for morning worship.
There will not be an evening prayer service tonight, Sunday, May 10th, Mother's Day. See our website for additional details.
PCA 30 Days of Prayer Guide: https://byfaithonline.com/pca-invites-members-to-join-30-days-of-prayer/
Home Fellowship Groups: These groups will continue to meet utilizing online platforms. For more information on the various group, please see the Church Life - Home Fellowship Group section of the website.
Financial Update: We are all eager to meet together for worship but do not know when we will be able to do so. Please continue to support the financial needs of our church. You can do so by:
Mailing checks to Christ the King Presbyterian Church 325 Fayette St. Conshohocken, PA 19428. Gifts for the deacons fund or building fund should be noted in them memo line.
Give on line through the church's web site: http://christthekingpca.org/resources/give-online/
Note that the online portal allows for a credit card or bank draft. The church incurs lower fees with the bank drafts. Gifts can be made to the general fund, deacons fund or building fund.
Donate securities through the church's brokerage account (contact church treasurer Dave Hudson if you need information on this process). As always, thank you for your generosity and faithfulness to Christ the King.
Hymn Lyrics
115 All Creatures of Our God and King
All creatures of our God and King,
lift up your voice and with us sing
alleluia, alleluia!!
Thou burning sun with golden beam;
thou silver moon with softer gleam,
O praise him, O praise him, alleluia.
alleluia, alleluia!
Thou rushing wind that art so strong,
ye clouds that sail in heav'n along,
O praise him, alleluia!
Thou rising morn in praise rejoice,
ye lights of evening, find a voice,
O praise him, O praise him, alleluia.
alleluia, alleluia!
Thou flowing water, pure and clear,
make music for my Lord to hear,
alleluia, alleluia!
Thou fire so masterful and bright,
that givest man both warmth and light,
O praise him, O praise him, alleluia,
alleluia, alleluia!
And all ye men of tender heart,
forgiving others take your part,
O sing ye, alleluia!
Ye who long pain and sorrow bear,
praise God and on him cast your care,
O praise him, alleluia, alleluia,
alleluia, alleluia!
Let all things their Creator bless,
and worship him in humbleness,
O praise him, alleluia!
Praise, praise the Father, praise the Son,
and praise the Spirit, three in one,
O praise him, alleluia, alleluia,
alleluia, alleluia!
108 Whate'er My God Ordains Is Right
Whate'er my God ordains is right;
his holy will abideth;
I will be still whate'er he doth,
and follow where he guideth.
He is my God; though dark my road,
he holds me that I shall not fall:
wherefore to him I leave it all.
Whate'er my God ordains is right;
he never will deceive me;
he leads me by the proper path;
I know he will not leave me.
I take, content, what he hath sent;
his hand can turn my griefs away,
and patiently I wait his day.
Whate'er my God ordains is right;
though now this cup, in drinking,
may bitter seem to my faint heart,
I take it, all unshrinking.
My God is true; each morn anew
sweet comfort yet shall fill my heart,
and pain and sorrow shall depart.
Whate'er my God ordains is right;
here shall my stand be taken;
though sorrow, need, or death be mine,
yet am I not forsaken.
My Father's care is round me there;
he holds me that I shall not fall;
and so to him I leave it all.
Zoom Webinar Information
Joining the Worship Service Information
If you would prefer to simply call into the Webinar, please call US: +1 929 205 6099.
If you call in, you will need to input the Webinar ID which is:

974-6646-3573

.
Downloading / Joining Zoom Information
If you do not have Zoom already installed on your computer, the link above will automatically prompt installation. Follow the prompts and the installation process should take no more than two minutes.
If you are looking to join on your phone or tablet, please download the Zoom App from the App Store or Google Play.
In order to join the meeting, you will be prompted to put in your name and email address. This is for Zoom registration purposes only (we are not collecting your information).
After you input your email and name, you will be asked whether you want to join using computer or phone audio and video.
Once you select computer or phone audio and video, you will join the worship service.
Below are a few notes that may be helpful for you to keep in mind for Sunday morning.
Important Notes
We will be using Zoom Webinar for the worship service - while this means that we will not be able to see everyone's faces, it will give us, as a church, security and oversight during the service.
When joining the Webinar, you will be automatically muted and your camera and chat features will be disabled.
If you have any questions once you join, you can ask me in the Q&A feature. This will send questions directly to me and I will be able to help you individually. This can be accessed by clicking Q&A located in the black bar at the bottom of the screen.
For those of you who would also like to avoid crowding around your laptop, you may want to plug your computer into your TV using an HDMI cord or by mirroring it to your TV (mirroring is typically used to project your phone to your TV wirelessly). This may be nice during the morning worship service.
Finally, as a reminder, if you need it, the webinar id is: 974-6646-3573.