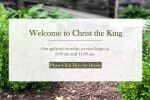 Morning Worship: June 28, 2020
The bulletin can be viewed below or printed by opening up the attached PDF.
Click here to print the bulletin
John 14: 2-3
In my Father's house are many rooms. If it were not so, would I have told you that I go to prepare a place for you? And if I go and prepare a place for you, I will come again and will take you to myself, that where I am you may be also.
New Testament Reading
Hymn Recordings
Preaching of the Word
Sermon Text: Genesis 1: 1-10; 2: 5-9
Sermon Title: Everything's In Place
Rev. Eric Huber